Client Testimonials

When choosing a realtor to help you buy or sell property, it's important to review their track record.

That is why I would like to share with you some of the comments I've received from past clients. Customer satisfaction is my number one goal. If you have any questions or if I can be of service to you in any way, please let me know!
"Linda is truly a rare gem in the real estate industry. I have never dealt with such an honest and trustworthy individual, which is priceless while making such a significant financial decision. Linda has a no-pressure approach and truly had our best interest in mind throughout the entire process. You will not be disappointed having her in your corner. I give Linda my highest recommendation."
stew20, Lanesville, IN - 2018
"Linda is wonderful to work with and very knowledgeable in the real estate field. We also consider her a friend! We would definitely use her as our agent if the opportunity ever emerges again! Thanks Linda:-)" - april edmondson, Greenville, IN - 2018
"I contacted Linda to show me a property I was interested in. In less than 24 hours I was looking at the property. She then set me up with a person to help me with the loan process. Everything from the scheduled showing to the closing was seamless and all questions were answered in a timely manner. She is knowledgeable and professional and I have recommended her to my family and friends. Thanks Linda!" - D.Doane, Jeffersonville, IN - 2018
"We used Linda to help us move several years back, and when it came time to move again, we knew that we wanted to have her on our team again. Often times when buying a home, you end up feeling as though you are secretly fighting your own Realtor, and at some point, you will likely feel as though they are pushing you in a way that simply serves their own interest. Not with Linda. She has never pushed us out of our comfort zone, nor made us wonder who's team she is on. Linda's knowledge of the local real estate market is a tremendous asset to anyone who is looking for their next home. She is very professional, as well as friendly, and she surrounds herself with good people, which is good, because you will end up needing the assistance of some others somewhere along the way. She is very patient as you look for your home. If you ask to see something that she "knows" you won't like, she is completely willing to go along with you and help as you education yourself to the market. At one point in our search, it seemed as though we may have to look towards an area that Linda was less familiar with. Instead of trying to keep us in "her area", or "wing it" in the new area, she most graciously directed us towards another great agent more familiar with that location. In the end, we came back on our own, but the way she handled it proved yet again that her ultimate interest was in our happiness, and not in her making another sale (she has enough already). At the end of the day, if you want a Realtor who is knowledgeable and "on your team", then hopefully you will be able to get Linda to help you too." -Joe russell370, Floyds Knobs, In -2018
"She is Working hard to sale houses and helpful nice person. She gave us lots of advice about houses market before we put our house on market, and good advice for preparing out side and inside the house for sale. She is very helpful and has good relationship with customers.We are happy with her services." - 812samual, 8006 Shenandoah Ln - 2018
"My wife and I used Linda to buy our home 9 years ago and again to recently sell. Her knowledge of local real estate is unmatched. She is always quick to respond and is also very good at reining in overly excited home shoppers and buyers by educating you on things that you may not be considering. With her representing us, we never doubted that she was looking out for our best interest. Especially when negotiating. What is even more impressive about Linda is how in the years in between buying and selling, she always made herself available and responded to any questions we may have. She is an absolute gem and anyone looking for an agent would be lucky to have her." - J & D McCaulley - 2018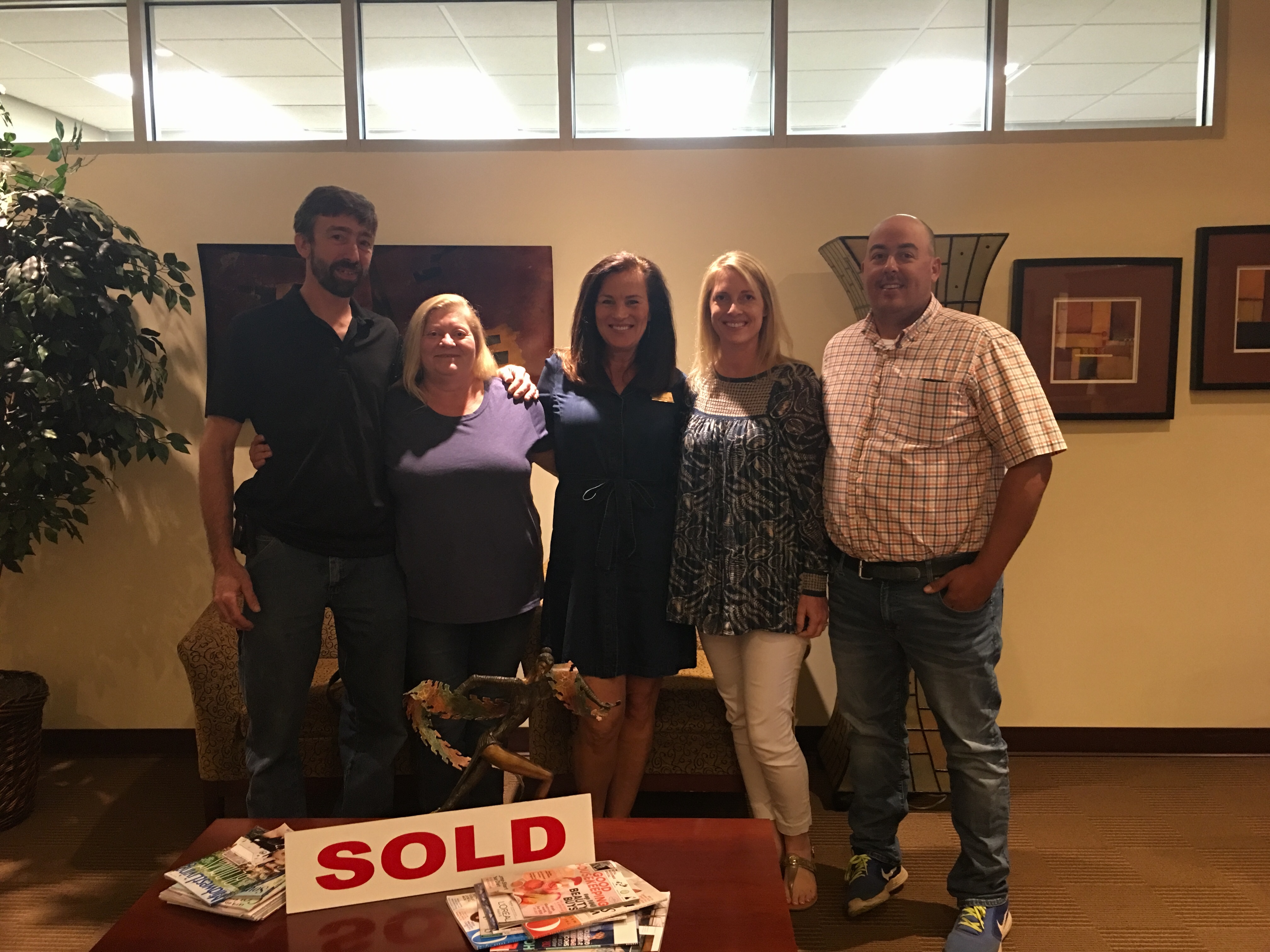 "Linda is an expert in her field. We had complete confidence in her ability to successfully sell our home and guide us through the entire process. After meeting with various companies and agents we knew without a doubt she was our best choice. Our property wasn't a typical property and we knew there would be some challenges. Linda met each challenge with professionalism and she remained dedicated and highly responsive throughout the process. Linda absolutely went above and beyond and we couldn't have asked for a better agent!" – J & L Minner, Otisco, IN - 2018
"I had the pleasure of working with Linda when she listed my house and throughout the sale. She was a delight to work with. I will highly recommend her to anyone needing a realtor! She is very enthusiastic and encouraging, always available when I needed her, even on her vacation! She is very knowledgeable about real estate and helpful with the many contacts she has to get issues taken care of. Linda started out as my realtor and became a new friend." – D. Embry, New Albany, IN - 2018
"Linda was great to work with! I was selling a home that I lived 5 hours from. Linda helped me get it market ready and had great contractors, decorators, etc to recommend to get it ready to sell. With her help I only had to make one trip to the house to get it ready to sell. She was amazing, and I couldn't have done it without her. Plus she sold the house in just 3 days!" - S & L Cartwright, Sellersburg, IN - 2018
"Linda was thorough, attentive to detail and very easy to work with. From using her experience hleping us stage our home to making the contract process feel seamless we can highly recommend her to anyone seeking a truly professional Realtor. She is top notch!" - Tom and Tammy Shackelford 2017
"The best thing we have to say about Linda is that she sold our house in 11 days. She was fast, effective and knows her stuff! We did everything she recommended and it worked...11 days!! She is amazing!...You were awesome. Thanks so much for making this process so easy. Moving is never easy but you took out so much stress in our lives." - Rachel & Darren S., Floyds Knobs, IN
"Linda has excellent real estate marketing skills. She prepared a great description of our property and had professional photos taken. The house sold in a week. Then she kept us informed of every step to closing. Great job!" - Kathy & Bill S., Floyds Knobs, IN
"Working with Linda made the home buying process very simple. She is extremely knowledgeable and efficient in what she does. I would highly recommend anyone who needs a real estate agent to look no further." - Josh W., Jeffersonville, IN
"She is number one in my book. My Jeffersonville home sold in seven weeks" -Doug C. - Jeffersonville, IN
"An all-around amazing, great experience finding and buying, my new Beautiful Home with this Realtor. All thanks to you..thanks again!!" – Devin P., Floyds Knobs, IN
"We loved working with Linda. She has a way of making you feel comfortable to ask questions. We have worked with a different realtor as well and let me tell you – once you go LaPilusa you don't go back! I have recommended her to all of my friends and family for their home buying/selling needs! Thanks Linda!" - Kara & Roxy, Palmyra, IN
"Thanks for all your assistance selling our home. We truly appreciate it. PS Give our thanks to Amanda, also." -Gary & Tana W., New Albany, IN
"Working with Linda and her great assistant Amanda was a wonderful experience. My wife and I have many children so the 12 hour drive to Indiana was not easy. Not only was the trip to look at homes stressful but we had to stay extra nights because we were not able to find a home that suited our needs. Linda and Amanda were very gracious. They even took us out for ice cream between home viewings. What I appreciated maybe more than this was their honesty about the homes. It was almost like Linda could read my mind as I looked at something regarding a home I had a concern about. To make this review short and to the point I will finish by simply stating, 'Linda and Amanda were a great pleasure to work with and I hope they continue helping families purchase homes as long as they can'." - Robert & Lindsey C.
"Linda was fabulous! She is very professional in her approach to not only sell your existing home, but also in finding the home of your dreams. She seamlessly made our transition from one home to the next a reality with the entire process smooth as silk. If you want your home sold right, Linda is your realtor!" -Jill & Brent S., Floyds Knobs, IN
"To those that read these. I am a first time home buyer and I was extremely nervous about the whole process from finding the right house for me to all the final work. Talked to a couple people that had horror stories of realtors pushing them to buy things that they were not comfortable buying. Linda LaPilusa was nothing like that. After I found what I would "qualify for" I told her what I was comfortable with. Linda worked very hard for us and found us the house that we could afford and were comfortable with paying on. She worked with us through the whole process and was very patient with us. Linda and her assistant, Amanda Kirchoff, did a great job to help us find a nice starter home." -The Cannons
Linda is really great to work with. When searching for my new home, I really felt that she put my interests and needs as top priority. When I found the house that I wanted, she went above and beyond to make sure that I was able to get it at a price that I was comfortable with. I would highly recommend Linda to anyone looking to purchase a house. - Brandon H., Floyds Knobs, IN
Our experience with Linda was absolutely amazing. She went above and beyond multiple times to ensure that me and my fiancé were taken care in every situation. With us being first time home owners we wanted to find a home that would be our forever home. Also, we wanted someone to trust enough to help guide us through the home buying process, and she did just that and more. Linda was there for every single question we had even if it was at 11:30pm and helped guide us towards making decision that we had no idea about.Also, every person that she refered us to for insurance or anything financially related to buying the home helped us out tremendously since we had no clue who to go with. Even with the few bumps that we had with the government being shut down, Linda made us her number one priority and helped us feel at ease and would still be there at any time to answer all of our questions. I would and will recommend her to anyone who is wanting to find that forever home and to anyone who is a first time home owner. Because thanks to her, we had an amazing experience and are now living in our dream home. --kristin dancer17
inda is wonderful to work with and very knowledgeable in the real estate field. We also consider her a friend! We would definitely use her as our agent if the opportunity ever emerges again! Thanks Linda:-) --april edmondson
Linda is truly a rare gem in the real estate industry. I have never dealt with such an honest and trustworthy individual, which is priceless while making such a significant financial decision. Linda has a no-pressure approach and truly had our best interest in mind throughout the entire process. You will not be disappointed having her in your corner. I give Linda my highest recommendation --stew 20
I contacted Linda to show me a property I was interested in. In less than 24 hours I was looking at the property. She then set me up with a person to help me with the loan process. Everything from the scheduled showing to the closing was seamless and all questions were answered in a timely manner. She is knowledgeable and professional and I have recommended her to my family and friends. Thanks Linda! --DonnaDoane
We used Linda to help us move several years back, and when it came time to move again, we knew that we wanted to have her on our team again. Often times when buying a home, you end up feeling as though you are secretly fighting your own Realtor, and at some point, you will likely feel as though they are pushing you in a way that simply serves their own interest. Not with Linda. She has never pushed us out of our comfort zone, nor made us wonder who's team she is on. Linda's knowledge of the local real estate market is a tremendous asset to anyone who is looking for their next home. She is very professional, as well as friendly, and she surrounds herself with good people, which is good, because you will end up needing the assistance of some others somewhere along the way. She is very patient as you look for your home. If you ask to see something that she "knows" you won't like, she is completely willing to go along with you and help as you education yourself to the market. At one point in our search, it seemed as though we may have to look towards an area that Linda was less familiar with. Instead of trying to keep us in "her area", or "wing it" in the new area, she most graciously directed us towards another great agent more familiar with that location. In the end, we came back on our own, but the way she handled it proved yet again that her ultimate interest was in our happiness, and not in her making another sale (she has enough already). At the end of the day, if you want a Realtor who is knowledgeable and "on your team", then hopefully you will be able to get Linda to help you too. --Joe russell370
She is Working hard to sale houses and helpful nice person. She gave us lots of advice about houses market before we put our house on market, and good advice for preparing out side and inside the house for sale. She is very helpful and has good relationship with customers.We are happy with her services. --812samual
My wife and I used Linda to buy our home 9 years ago and again to recently sell. Her knowledge of local real estate is unmatched. She is always quick to respond and is also very good at reining in overly excited home shoppers and buyers by educating you on things that you may not be considering. With her representing us, we never doubted that she was looking out for our best interest. Especially when negotiating. What is even more impressive about Linda is how in the years in between buying and selling, she always made herself available and responded to any questions we may have. She is an absolute gem and anyone looking for an agent would be lucky to have her. --joelm111880
Linda is an expert in her field. We had complete confidence in her ability to successfully sell our home and guide us through the entire process. After meeting with various companies and agents we knew without a doubt she was our best choice. Our property wasn't a typical property and we knew there would be some challenges. Linda met each challenge with professionalism and she remained dedicated and highly responsive throughout the process. Linda absolutely went above and beyond and we couldn't have asked for a better agent! --jandlminner13
Linda was great to work with! I was selling a home that I lived 5 hours from. Linda helped me get it market ready and had great contractors, decorators, etc to recommend to get it ready to sell. With her help I only had to make one trip to the house to get it ready to sell. She was amazing and I couldn't have done it without her. Plus she sold the house in just 3 days!. --cartwright32
I had the pleasure of working with Linda when she listed my house and throughout the sale. She was a delight to work with. I will highly recommend her to anyone needing a realtor! She is very enthusiastic and encouraging, always available when I needed her, even on her vacation! She is very knowledgeable about real estate and helpful with the many contacts she has to get issues taken care of. Linda started out as my realtor and became a new friend. --debbie embry3
Very impressed with Linda she was very helpful with what we should do to get our house ready to sell. She even went to pick out some cabinet knobs for us and brought them over to see if they would look good on our cabinets which they looked really great. --sldorland688
Linda will continue to support you even after the purchase of your home, and she seems to have your best interest heart. Even when she was on vacation she made sure a coworker was there to keep showing me homes and walking me through my first home purchase. --theesicarius21
Linda is very knowledgeable of the market, prompt in her communications, and was willing to listen to what we were looking for and find us the right home. We really appreciate her help! --Joshua Smith
Linda was very helpful with our first home buying experience. She was extremely knowledgable and made herself available anytime day or night. She made the process very easy. I would recommend her to anyone! --Garrett Strange
Linda was such a wonderful agent in all aspects of her work and personal relationship's gained with her clients. We tried other realtors with no success and then she took a completely different route and sold our home within 6 wks. She was the answer to our prayers! I tell everyone about her and I pray that you choose her as well, so you can receive the best care and concern everyone deserves. --user8972853
Linda was fantastic! She was a great agent...very approachable, always available, and answered any questions we had to make our recent home-buying experience an easy one. We would definitely use her again in the future! --heathermlewis
She helped to navigate us through the construction of a new home. We had never done this and helped to make sure the builder completed the home build and delivering on everything they promised as well as giving us security the builder would support the maintenance of the home over the next 2 years. --themeier48
As a first time home buyer it was refreshing having Linda as our realitor. It's obvious she's been doing this for a long time and had a timely answer for any question or concern we threw her way. Linda is very professional, but also super down to earth and made us feel super comfortable immediately in our process. She also got us in touch with lenders and had tons of other recommendations on who to use for inspections and all other parts of the "before you close process", which made the entire process go smoothly. --bmschroeder2
Linda was very helpful by listening to what we wanted for our new home. She didn't waste our time by showing properties that did not meet our criteria. --AMYB812
Linda LaPilusa is the best! She is efficient, highly qualified and such a positive figure in real estate. Every single detail was taken care of in a timely fashion. Linda contacted me and we took care of a specific detail regarding the roof on my house. We were in contact at all times while my house was listed—even weekends and nights whenever necessary. She is a diligent and knowledgeable agent and I would recommend using Linda to either buy or sell virtually any property! --Allison Stemle
"Linda was thorough, attentive to detail and very easy to work with. From using her experience, helping us stage our home to making the contract process feel seamless we can highly recommend her to anyone seeking a truly professional Realtor. She is top notch!" --jshack104
Linda is a Godsend. She is very skilled in her craft and the results are undeniable!! She was able to work with my house and three separate tracks of property. Linda worked on a plan that made the property more presentable and easier for people to work with and purchase. Thanks Linda for all your help. --raigpnapd
Linda LaPilusa did an outstanding job with making staging recommendations, strategic pricing and getting my home sold within the first week it was listed. We commanded one of the highest prices in the area for my type of home. Linda is professional, very knowledgeable, uses the latest technology, and did an excellent job as my Realtor. I would highly recommend Linda to anyone who needs an exceptional Realtor. --T sparks417
Linda is very professional and very knowledgeable of her industry. We selected her as our realtor, because we noticed over the years that she was able to sell homes in our area quickly and at a good price. We really appreciated that sale of our home was a fast and straight-forward process. --ag0505
"We loved working with Linda. She has a way of making you feel comfortable to ask questions. We have worked with a different realtor as well and let me tell you – once you go LaPilusa you don't go back! I have recommended her to all of my friends and family for their home buying/selling needs! Thanks Linda!" - Kara & Roxy, Palmyra, IN "Thanks for all your assistance selling our home. We truly appreciate it. PS Give our thanks to Amanda, also." -Gary & Tana W., New Albany, IN "Working with Linda and her great assistant Amanda was a wonderful experience. My wife and I have many children so the 12 hour drive to Indiana was not easy. Not only was the trip to look at homes stressful but we had to stay extra nights because we were not able to find a home that suited our needs. Linda and Amanda were very gracious. They even took us out for ice cream between home viewings. What I appreciated maybe more than this was their honesty about the homes. It was almost like Linda could read my mind as I looked at something regarding a home I had a concern about. To make this review short and to the point I will finish by simply stating, 'Linda and Amanda were a great pleasure to work with and I hope they continue helping families purchase homes as long as they can'." - Robert & Lindsey C. --Robert Coffman
Linda was fabulous! She is very professional in her approach to not only sell your existing home, but also in finding the home of your dreams. She seamlessly made our transition from one home to the next a reality with the entire process smooth as silk. If you want your home sold right, Linda is your realtor! --Jill Sammons
Linda was extremely helpful to me in every way. She is quite knowledgeable in all areas of real estate sales and I felt comfortable from the very beginning. I would definitely ask her to help me again in selling or buying a home. --jthomp23
I was very happy with Linda Lailusa and she sold my property with-in a timely manner, and responded to both my needs and the buyers needs. I would recommend her to anyone needing a good agent and I would use her again for future listings. --jlbean
Linda is terrific. She sold our home is 11 days! She is very good at what she does and had our best interests at heart. She offers great advice and I would recommend Linda to anyone buying/selling a home! --rsalapka
I was very happy with Linda last time when she helped me sell my house and buy this one. 5 years later I am moving with work and automatically called Linda to list it. She is very easy to work with and very professional. Often she is educating other realtors on particular things that they don't know. She really represents her clients best interest at all times. Thanks to Linda we were able to sell our house in the timeframe we had hoped! Highly recommend her to all potential sellers --user5107832
My house needs to be sold within about three to four months. To sell a house timely, shortly is very difficult these days. My house was listed on the market from September last year, and I got a offer in October. Linda did everything to help me, no matter what it is, she can come with the solutions. She is easier to talk, always try to do the best job for me. Liner is very helpful. I do want to tell that Linda did excellent job for selling my hours. I greatly appreciated that. I recommend her to you if you ask my opinion. --user11118847
Southern Indiana
Featured Searches
What's My Home Worth
Get Pre-Approved
Relocation Guide